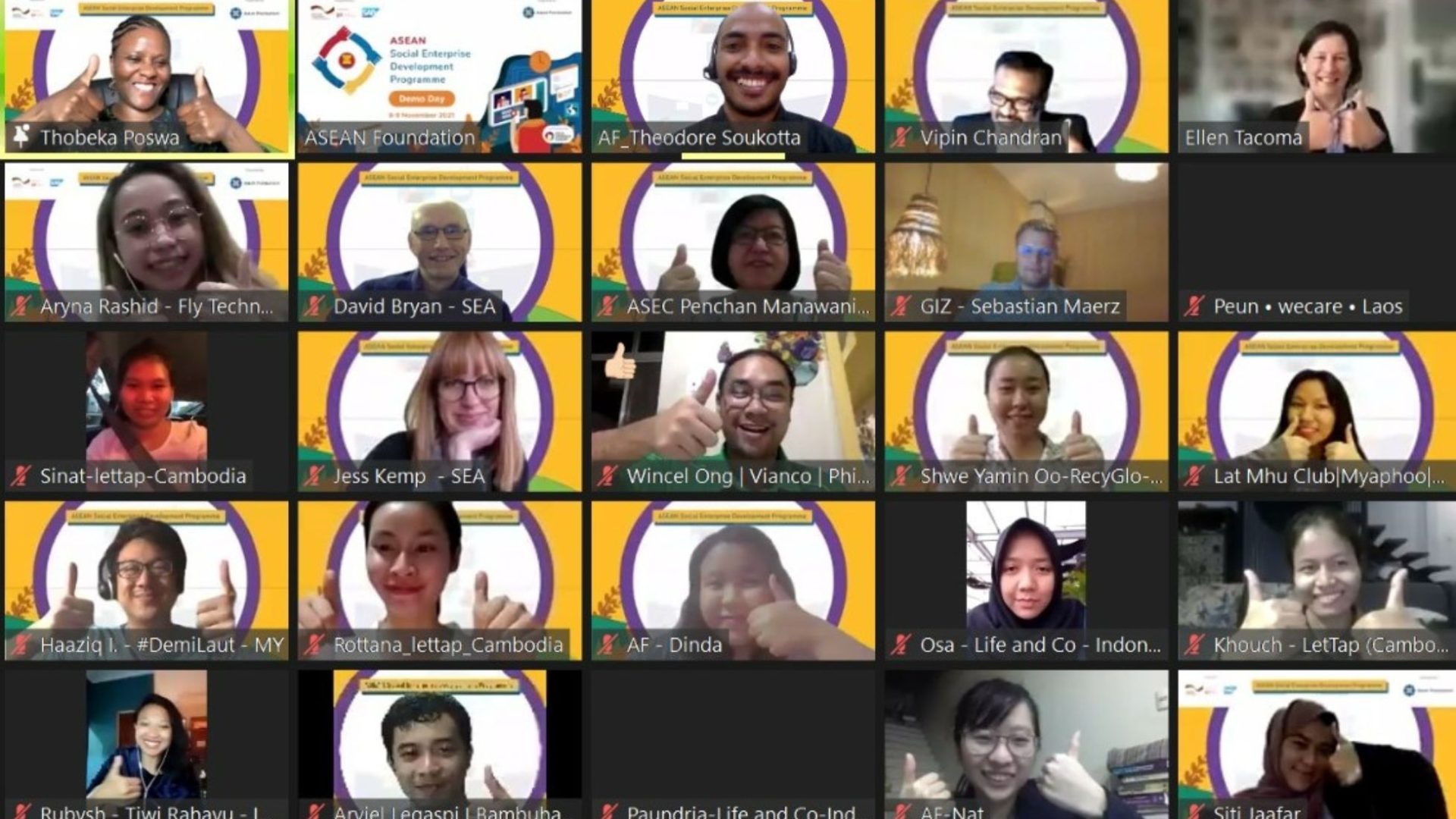 Development Programme to Champion Changemakers in ASEAN States
Author

SEA Team

Published

Duration

3 Minutes
The ASEAN Social Enterprises Development Programme (SEDP) is an Accelerator programme that aims to help the ASEAN youth in the region to drive positive changes within the community. ASEAN-SEDP will provide 20 selected social enterprises from 10 ASEAN Member states with access to more significant opportunities to improve their ventures through capacity building, mentorship, financing and access to marketplaces. ASEAN Foundation is implementing the programme with the support from GIZ on behalf of the German Federal Ministry for Economic Cooperation and Development (BMZ) and SAP. SEA is collaborating with ASEAN Foundation on leading the capacity building for the programme. 
The objectives of the ASEAN-SEDP are as follows: 
to sustain youth entrepreneurship through structured capacity building and mentoring programmes
To empower youth-led social enterprises across the ASEAN region through (a) Promoting productivity, technology and Innovation; (b). Increasing access to finance; (c). Enhancing market access and internationalisation, and (d). Promoting entrepreneurship and human capital development
To achieve SDG 1 – No Poverty, SDG 3 – Good Health and Well-Being, SDG 4 – Quality Education, SDG 5 – Gender Equality, SDG 12 – Responsible Consumption and Production, and SDG 13 – Climate Action through social enterprises empowerment.
Zakia Moulaoui from Invisible Cities will be providing guest speaker input on the kick-off week and there will be further guest speakers throughout the sessions. There will also be access to corporate mentors, through SAP, and SEA will provide access to Coaches. The capacity building programme will culminate in a pitching session, where three of the SEs will win seed funding. 
We are delighted to be collaborating with ASEAN Foundation on this exciting Accelerator programme for young social entrepreneurs across the ASEAN region. With the pressure on SMEs and youth-led enterprises being felt across Asia, this programme will be vital in strengthening capacity, skills, and networks within this group of young changemakers.
Jess Kemp, International partnerships manager (SEA)