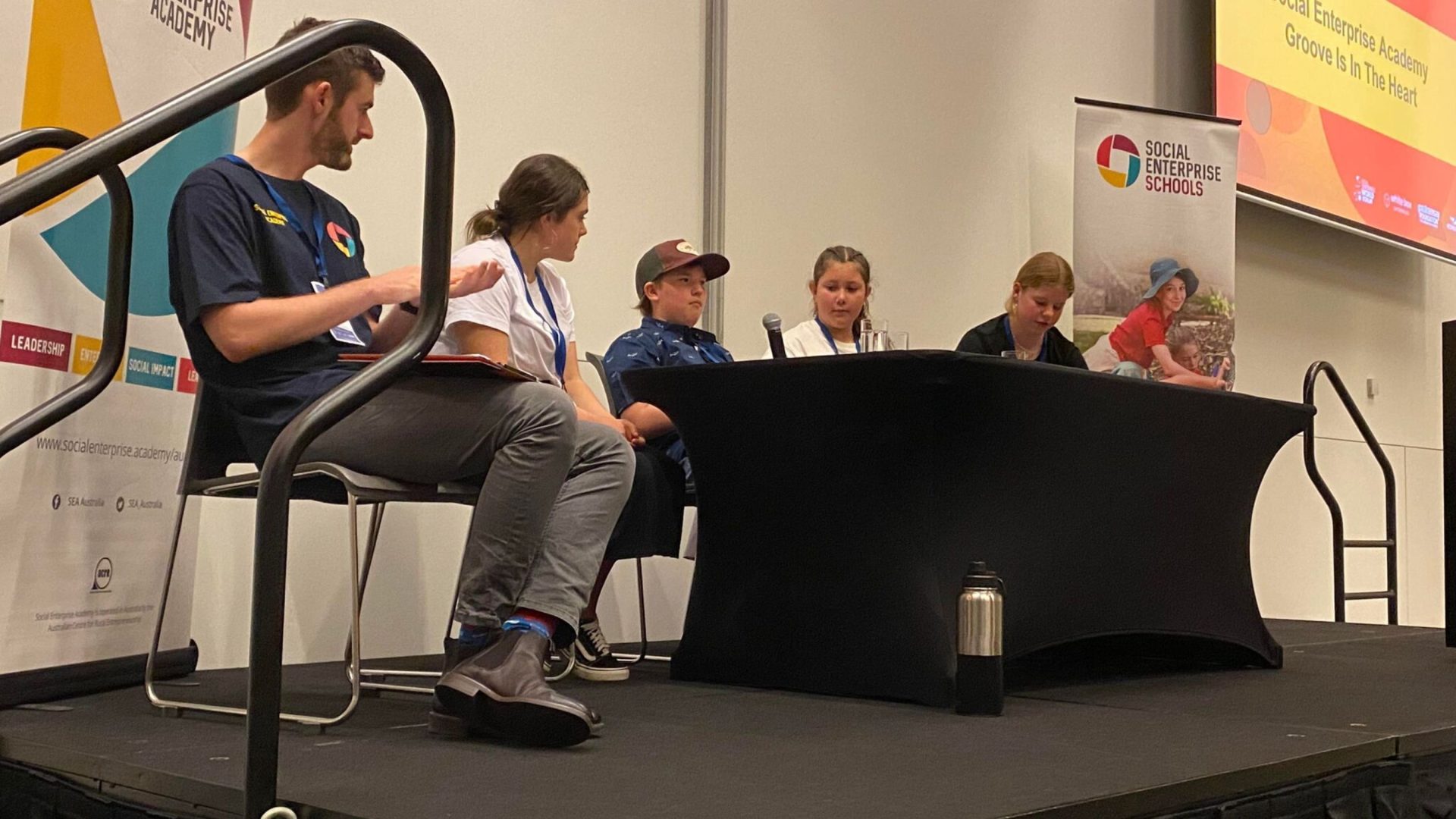 Australian students take to world stage at Social Enterprise Youth Forum
Author

SEA Team

Published

Duration

3 minutes
Social Enterprise World Forum moves around the globe each year to offer delegates challenging, topical programs that feature local, national and international expertise. Australia is hosting the Social Enterprise World Forum in 2022. 
Year five students from Myrrhee Primary School, Jack Smerdon and Ivy Koulis, together with year ten students from Cathedral College Wangaratta, Ella Fitzgerald Kidd and Alexandra Grala, travelled to Brisbane on Monday (26 September) with their teachers. The students facilitated two workshop sessions which involved over 120 young people aged 16 to 30 years at the dedicated Youth Forum. 
 This opportunity for the students was made possible through the generous support of the Gary Nash and Co. Community Fund, together with the NE Tracks LLEN and their ongoing commitment to working with the Social Enterprise Academy to engage young people across our region in social enterprise learning. The North East students led a workshop that demonstrated the entrepreneurial skills they have developed through the Social Enterprise Schools program – a collaborative, student-led program run by Social Enterprise Academy Australia. 
 Year five student Ivy describes the program "It was up to us as students to create our Social Enterprise and we got to decide everything including what cause our profits would help" she said. During the Social Enterprise Youth Forum the students asked participants to consider what they could be doing differently in the world by considering the role that social enterprise can play in helping to address social challenges. The students explained that a social enterprise is a business model that gives back to the community and contributes in a positive way to a social challenge. "Social Enterprise Schools has given us a chance to have a say in what we do," said year ten student, Ella. 
Pete Sacco from Social Enterprise Academy said, "We're excited to see these inspiring young people share their ideas at the world forum, and the positive role they will play in the future of their communities". 
 The Youth Forum brings together young leaders to discuss how they can work together to create a more sustainable future, covering topics such as climate action, social entrepreneurship and youth leadership. 
 North East and Border residents can support and meet inspiring young enterprising students at the Social Enterprise Schools Market Day held at the Old Beechworth Gaol on Wednesday 5 October 2022. The Market Day coincides with the 2022 Social Enterprise World Forum Rural Gathering being hosted by the Australian Centre for Rural Entrepreneurship (ACRE).